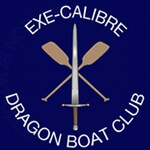 Exe-Calibre is a sports club with a diverse membership that seeks to combine a competitive sporting ethos with an inclusive membership. The club always welcomes new members of all ages, sizes and backgrounds.
Exe-Calibre trains all year round with three sessions a week available for much of the year. The club travels to competitive race events across the UK in both summer and winter and encourages all of its members to make themselves available for selection to one of three racing crews; Exe-Calibre Dragons, Exe-Calibre Blades and Exe-Calibre Maidens.
Exe-Calibre was formed in 2005 when a number of teams based at the Commando Training Centre in Lympstone merged to form a club open to civilians. Now there are only a handful of members from HM Forces. Since the merger the club has developed and become more successful, winning the 2010 Standard League to join the top tier of UK Dragon Boat Racing. In 2011 Exe-Calibre finished near the top of the Premier League and took first place in the Henley Winter Series.
Training sessions are structured and intensive yet accessible to all. Even the most unfit novice should pick up the basics within a few weeks and see immediate changes in their health and well being. The diverse nature of the membership means that new members' social lives improve dramatically too!