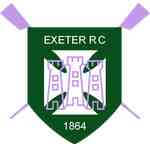 Exeter Rowing Club is a friendly local club with lots of history. Rowing is a sport that is competitive, social, and lots of fun. If you're looking to stay fit, learn to row, row non-competitively or wanting to join a competitive squad right away Exeter Rowing Club is for you.
The origins of the Club can be traced back to the early 1800's and with over 140 members we are one of the largest and most successful clubs in the region. Our members regularly compete at local, national and international levels.
We welcome new members of all abilities, minimum age 11.
We have an experienced and diverse coaching team ready to offer their skills and support to help you achieve your rowing or coxing goals. Club sessions run most evenings, rain or shine, including water based or land based training.
Rowing is a team sport. You train together, race together, win together and lose together.
You spend a lot of time within your squads, which is why we are here to give you more than just training.
There have been a number of successful social events where we have mingled with the best British Rowing has to offer, including Cornish indoors; Nottingham Regatta; Monmouth Regatta, and Henley Royal Regatta.